Pyrometer SD with separate electronics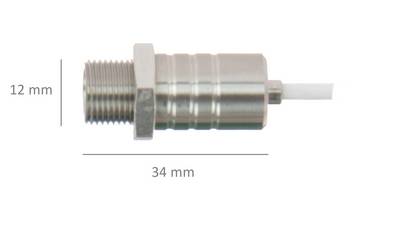 All-round Pyrometer SD with separate electronics for temperature ranges from -40 °C to 2500 °C
Designed for controlling and monitoring tasks, it can be used universally, in the most different industries:
steel works and rolling mills
industrial furnaces
glass and ceramics
soldering, sintering, hardening
metal industry
paper and packaging
food and chemical industry
The separate sensor head allows an object temperature measurement in areas which are difficult to access and is suitable for ambient temperatures up to 180 °C.
The evaluation electronic with display and programming keyboard enables easy parameterization of the pyrometer and the display of the temperature value. Through the RS 485 interface a quick integration in existing BUS systems is possible. The analog output is temperature linear and adjustable to the desired measuring range.
Features
small and robust sensor head (M12)
adjustment and temperature display at the device
temperature range from -40 °C to 2500 °C
RS 485 interface (galvanically isolated) for parameterization and measurement data transmission with PC Software
two potential-free switching outputs
response times from 10 ms
measuring areas from 7 mm diameter
accuracy from 1%
BUS solution with up to 32 devices (MODBUS RTU)
maximum value memory
OLED display
sensor head up to 125 °C (180 °C)
wide range of accessories
Reading and programming at the device display or with a PC via software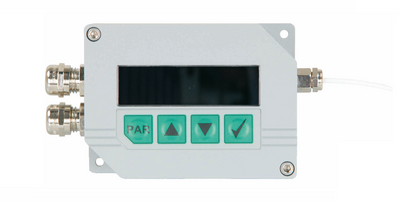 Keyboard and display allow the display and adjustment of the following parameters:
temperature display °C / °F
measurement range setting
emissivity setting
maximum value memory
setting time (95% time)
0/4-20 mA output function
switching outputs