High range and reliable detection is guaranteed even with strong interferences by steam, water, contamination and heat. All Proxitron light barriers dispose of a high functional reserve and can be equipped with a cooling jacket or a fiber optic cable.To the press release

Functions and applications of Proxitron light barriers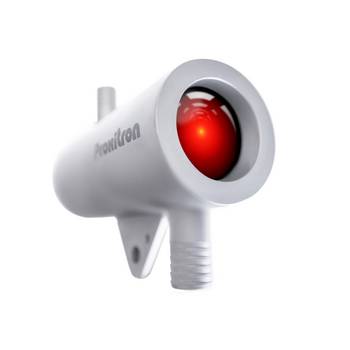 The high switching speed makes monitoring safe and possible even with rapid processes. Response times up to a millisecond can be achieved. Light Barriers from Proxitron are characterized by their extreme range allowing the application to be utilized in the most difficult areas. Proxitron's high set of standards provide uncompromising operational safety and functional reliability even when exposed to steam, dust or contamination. Additionally, the robust construction guarantees safe operation at the roughest ambient conditions like vibration, radiant heat and high ambient temperatures. The optics consist of temperature resistant glass and are able to resist high excessive strains.
Proxitron offers a large variety of Light Barriers. In addition to the standard types with stainless steel housings and integrated electronics, Proxitron provides different types with cooling jackets for ambient temperatures up to 200 °C. Additionally, Proxitron provides all Light Barriers with fiber optic cable, separated evaluation and separate optics. All of which withstand ambient temperatures up to 600 °C. Different operating voltages and switching outputs are also available.
A contamination output allows early signalization of unsecure operating state. Various connection types with temperature resistant cables or plugs are available to link different protective hoses. An optional air connection makes the cleaning of the optical system or its protection against contamination possible. The adjustable range and the compatible accessories with reflectors for the use of up to 500 °C ambient temperature complete the program for Proxitron.
The product range contains Light Grids with several Light Grids integrated in one, which allows the monitoring of material in bigger areas, even if the position is not reproducible.
Proxitron Light Barriers are particularly appropriate for material tracking in steel and rolling mills and for the metal working industry. There are many applications in ovens as well. As a result of, Proxitron's extensive experience and large number of realized applications we are able to provide knowledgeable answers and solutions even for complicated applications. Our wide array of accessories allows us to be your sole source.