HMD 4.0
• Compact devices up to 75 °C ambient temperature
• Compact devices up to 200 °C ambient temperature
• Devices with optic and fiber optic cable up to 290 °C ambient temperature
High performance and user-friendly
Proxitron infrared temperature switches have always been extremely robust, wear resistant and maintenance-free. This newest version is Proxitron's highest performing, most efficient, and most flexible Hot Metal Detector (HMD) yet! Thanks to the software-based configuration the new HMD 4.0 is programmable and adjustable over a wider range. The HMD detects response temperatures up to 1,000 °C automatically. It filters out interference almost completely. The HMD impresses with new features and functions which optimise processes, reduce efforts and save valuable time. The new sensors are available as a compact device as well as with fiber optic cable and separate electronic.
Features at a glance
variety of functions*
response temperature of 100 °C up to 1,000 °C
object temperature of 100 °C up to 1,800 °C
software based configuration
test function
reduces interference
fully parameterizable outputs
automatic object temperature detection (Teach-In)
smaller measuring spot even at great distances
more compact than before
bus compatible (MODBUS)
great selection of accessories for mounting, cable protection,
adjustment and dirt protection
The Software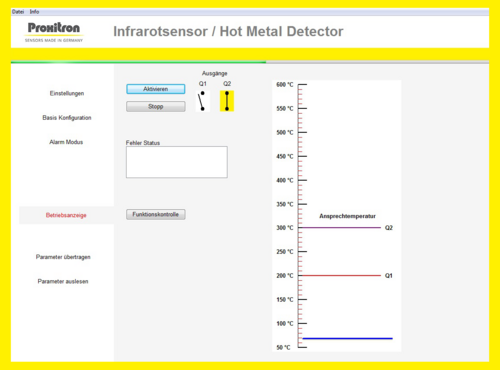 In the spirit of Industry 4.0 we have provided our latest Hot Metal Detectors series – the OX series – with a comfortable and intuitive software interface. Parameter setting is as easy as anything, remote control and monitoring are now possible, and more: further clever functions have been added.
In the OX series two switching outputs are available which can be assigned different response temperatures already in the standard configuration. Furthermore you can define different response and switch-off temperatures through the offset function.
In the jump detection function mode the temperature switch reacts to a sudden temperature change.
The sensor self-monitoring is achieved through the alarm function. When the sensor proper operation is impaired by a highly contaminated optic, the temperature switch automatically sets itself to the alarm mode.
Obviously, a huge quantity of operational data can be evaluated, represented and visualized. The whole system is based on MODBUS for communication.