Infrared sensors for extreme conditions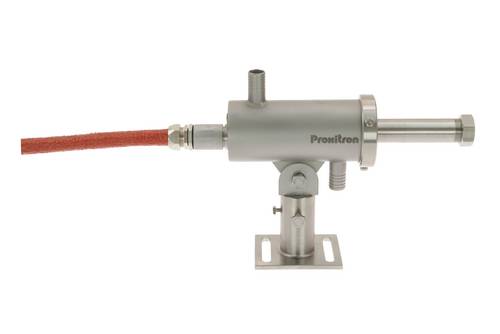 Sensors are being used more and more frequently in varying applications. They enable flexible manufacturing and increased production rates. Proxitron has reacted to these growing demands and created the new infrared sensor OKA 0529.38 G. This sensor offers a wide object temperature range. The response temperature is adustable from 250 – 900 °C. Proxitron's proven quality ensures reliability even at great heat and mechanical stress.
In addition to the extended temperature range, the new infrared sensor offers additional advantages.
The new technology blocks out Interference even better. The more compact housing allows installation even in restricted spaces. A clearly defined and focused detection area ensures the safe recognition of objects at several thousands degrees Celsius. The durable housing protects against mechanical damage and dirt.
Proxitron has extended their product range of infrared sensors by offering more articles with multiple lens options to fully cover all applications.

Comprehensive accessories like protection hoses and tubes are also available.
Use our sensor selector to find the perfect infrared sensor for your application >>