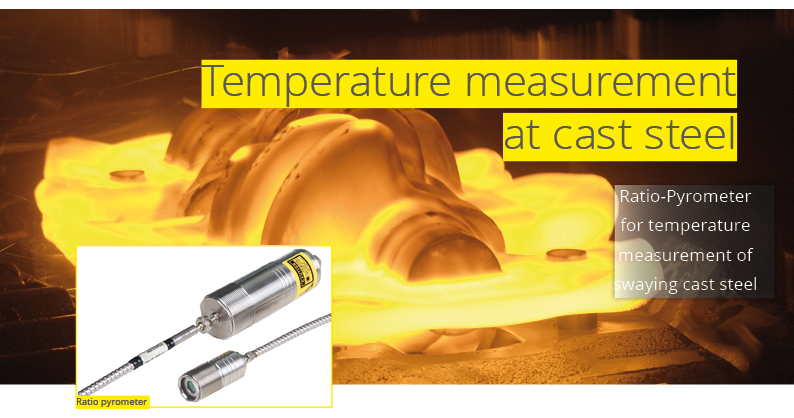 Temperature measurements on highly volatile objects have often been a challenge to companies. If, in addition, the ambient temperature rises up to 250°C, the measurement instrument must still be reliable.
The company Proxitron recently had to face a challenge like this. A steelwork (the ambient temperature was up to 200 °C) needed a sensor for temperature measurement of cast liquid steel. The cast steel swayed while pouring it in a mold according to speed and amount, so that the application of a customary pyrometer was not possible. The problem has been solved with the ratio pyrometer OKS L Q18.194 S10.

The pyrometer ensures reliable measurement even at less covering of the measuring surface. If the measuring surface is filled out more than 10 % by an object, the special optic guarantees an exact result. The temperature of the in strength and position varying cast steel gets captured and measured more reliably. This ensures the optimum controlling of the downpour process. Besides, the response time of 5 ms allows the use in applications where quick measurings are indispensable.
With the integrated laser-pilot light the pyrometer can be aligned any time – also during running measurement – on the measuring object.
But not only at the pouring of liquid metal the ratio pyrometer can be used. It is especially suitable for temperature measurement in the wire manufacturing, because the wire doesn't have a fixed measuring postion as well.
At a glance
10% filling of the measurement surface
Response time of 5 ms
Low emissivity
Up to 250°C ambient temperature
Technical data
Measuring temperature range: 700°C up to 1800°C
Output: 0/4 - 20mA
Ambient temperature: 0 up to +70°C
Fibre optic cable and optic: up to 250°C
Measuring failure: 0,5%
Service Interface RS 485: yes
MAX data storage: yes
Housing material: stainless steel
Protection class: IP 65
Accessories
Interface adapter
Fibre optic cable
Mounting clamp
Connection cable
Optic
Laser pilot light