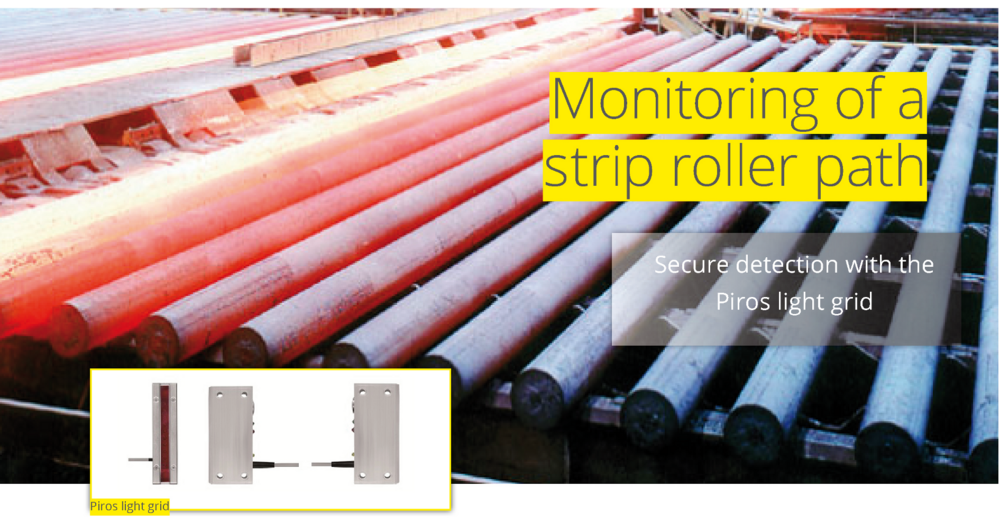 The exactness of the tube length measurement depends on the capability for reproduction to detect the tubes beginning and end. A tube rolling mill needed length measurement directly at the conveyor track of the subsequent production. An easy commissioning, high repeatability and an integrated error monitoring were in demand. As there are tubes of different sizes in process, they have decided on the Proxitron light grid.
Different tube diameters lead in a V-conveyor to a very divergent height position of the pipe.
Therefore the tube beginning and end can't be detected with a light barrier (red). However,
the Piros light grid detects objects in a field within the barrier height (green). This ensures the
safe detection of the tubes, even if the tube diameter changes.
If a tube is detected by the light grid, the counter in the system control is set to zero. By means of an incremental rotary transmitter which runs with the tube, exact length measuring up to +/- 1mm is possible. The Piros light grid works as a light barrier with 10 single lines in the grid of 8 mm.


The invisible infrared radiation between transmitter and receiver scans a height of 75 mm on entering material. A contamination output at the light grid ensures a reliable production even under extremely dusty or dirty conditions. The intermittent short circuit protection protects both outputs in case of overload. Proxitron light grids are available with a barrier width from up to 1400 mm.
At a glance
Barrier width 1400 mm
Adjustable measuring rate
Contamination output
min. object size: 15 mm Ø
Technical data transmitter LAH 140.1 and receiver LSH 140.18
Barrier width: 1400 mm
Barrier height: 75 mm
Operating voltage: 24 V DC
Ambient temperature: -25 up to +70°C
Housing material: Aluminium
Output: PNP n.o. / n.c. switchable
Contamination output: PNP n.c.
Measuring frequency, adjustable: 10 bis 400 Hz
Short circuit protection: yes