Industrial Pyrometer OKS T GA S
Non-contact temperature measurement
OKS pyrometers are non-contact infrared thermometers with current loop output signal and USB interface for parameterization on many different objects.
The OKS series features a stationary design which is available in a number of variants as to temperature measurement range - between -40 and +2500 °C – and spectral range.
These sensors have been developed for control and monitoring tasks in many varied industries:
steel works and rolling mills
forging works
presses
soldering, sintering and hardening
glass
food
paper
OKS pyrometers can be supplied in different executions according to the application. Various optical systems ensure best adaptation to the object size depending on the distance. All models are provided with a connector; separate connection cables are available in different lengths. Through the wide range of accessories they can be adapted to suit the most disparate operating conditions.
Software (Windows)
The integrated USB interface enables display and adjustment of the following parameters:
temperature display °C / °F
measurement range setting
emissivity setting
maximum value memory
setting time (95% time)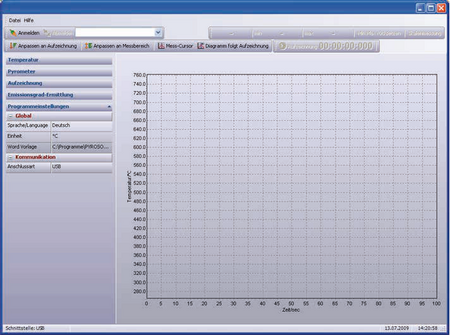 Features
Temperature measurement between -40 and +2500°C
Accuracy up to 0,5%
Response time from 10 ms
Several optics
Robust stainless steel M40 housing
Ambient temperature up to +70, up to +200 °C with cooling jacket
Integrated LED light for alignment (depending on version)
Memory for minimum and maximum value
4 - 20 mA output (2 wire 24 V DC current loop)
USB interface, with galvanic isolation
Adjustment of temperature range, emissivity and measuring rate possible via software
Windows software for parameterization, display, storage and evaluation of the measurement values
Extensive range of accessories