Industry award of technic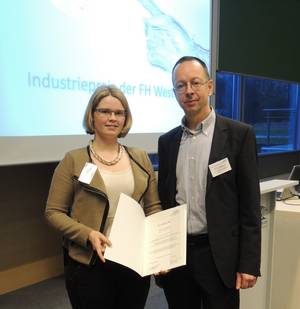 Within the scope of the annual automation forum on the 09.02.16 at the "Fachhochschule Westküste (FHW)", Heide, Ms. Lena Miebrodt was honored with the "industrial award of technology".
Ms. Miebrodt has provided her outstanding bachelor's work with the title "Draught, Realisation and Test of an inductive linear sensor for position tracking with use of the IC LDC 1000 of Texas instruments" in cooperation with the company Proxitron GmbH. In her work Ms. Miebrodt determined important knowledge to the sensor sensibility of the used measuring instrument with the capture of metal objects on rolling paths.
The presenter, Dr. Andreas Mühlenweg, handed over the "industrial award of technic" endowed with 1500 euro to the FHW student Ms. Miebrodt who is the first female prizewinner.

Picture source:Fachhochschule Westküste