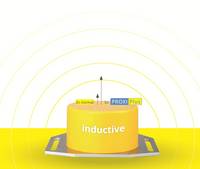 Inductive sensors with extended sensing distance

With ProxiPlus Proxitron has extended their product range of inductive proximity switches with sensors up to 100% more sensing distance.

Inductive proximity switches from Proxitron are especially robust, detect metallic objects contactlessly and are absolutely reliable. With ProxiPlus Proxitron expand the spectrum of possibilities not only regarding the sensing distance. A higher sensing distance means a longer lifespan, because mechanical damages by the object are avoided. Furthermore now a smaller sensor with the same sensing distance can be installed at constrained installation conditions. More freedom concerning the planning and construction is given. The proximity switches can be installed constantly at ambient temperatures from -25 °C up to 70 °C.
ProxiPlus proximity switches are initially offered in 10 different housings.

A long lifespan and high qualtiy, made in Germany, characterize Proxitron sensors for more than 35 years.