New, software-based Hot Metal Detectoren (HMD) of Proxitron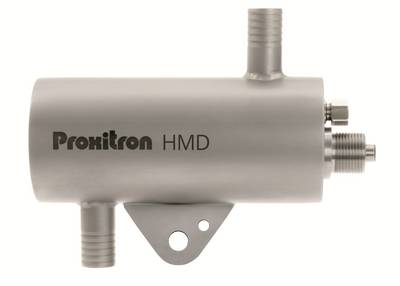 Proxitron has extended the product series HMD by software-based devices. The new HMD 4.0 devices are equipped with a comfortable software interface with which the sensors can be parameterized comfortably at the PC.

The customer can choose between varied functions: The response temperature can be parameterized for every switching output individually, different response- and switch-off temperatures are parameterizable or the sudden temperature changes can be used for the switching of the sensor. Besides the sensor provides an alarm function. With this function the HMD 4.0 diagnoses strong soiling, a wrong adjustment or an excess of the operating temperature and informs about it. In addition, a Teach-In function allows the recognition of the material temperature and adjusts the HMD 4.0 to the optimum response temperature.

The HMD 4.0 masters response temperatures of 100 °C up to 1,000 °C, grasps them automatically and filters out interference almost completely. The object temperature can be between 150 °C and 1,800 °C. To select the perfect sensor for the respective application, the devices are offered as a compact device as well as with fiber optic cable and separate electronic. A great selection of accessories for example, protection cable systems, tube systems and air purges round off the offer of Proxitron.

The new infrared sensors extend the range of the proven Proxitron infrared sensors with 12-step-switch and adjustable response temperatures of 250 °C up to 900 °C.

Hot Metal Detectoren (HMD) grasp the infrared radiation emitted by hot materials. At an exceeding or shortfall of a certain object temperature (response temperature) they deliver a switch signal and are therefore also applicable as a temperature switch. Combined with a quick response time of 0.3 milliseconds, very quick processes in steelworks or forges can be supervised.
The range of Proxitron products contains inductive, optical, analog and flow sensors as well as a great range of accessories.