Spring production – continuous operation
Customer / Field / Equipment manufacturer
Enduser Mollificio Imma IT / Spring production / Spring forming machine Itaya
Application description
Spring production is a high speed process, with rotating tools. After it has been formed, the spring is separated from the machine by cutters. It is important that the spring leaves the tools correctly and falls into the slide underneath. It this does not happen, the spring gets stuck into the cutter and can cause severe damages to the tools.
Customer problem
Customer needs a sensor to check that each spring has left the machine. Springs do not always fall in upright position through the sensor opening. In a small opening inclined springs can cause an obstruction, so a ring sensor with a large opening is necessary to permit the springs to go through the sensor smoothly whatever inclination they take. The spring forming machine is expected to work unmanned, in 24-hour operation.
Previous solution / Competitor product
An optical sensor was the original solution, which turned unreliable. They then adopted a ring sensor from another make, which is no longer available in the required opening size.
Proxitron solution
Proxitron inductive ring sensor has been mounted under a plastic hopper. The sensor hole is 60 mm large. This opening size allows any part to cross the sensor safely (no material jam). Thanks to its quick reaction time, the sensor could be easily integrated into the machine controller.
Advantages compared to previous solution or competition
Customer first decided to run the Proxitron ring sensor in a one-day test. Its flawless functioning convinced him to rely on the sensor also during the night shift, with no operator surveillance. The self operating machine can now work at its full potential and allow customer to reach an increase in productivity.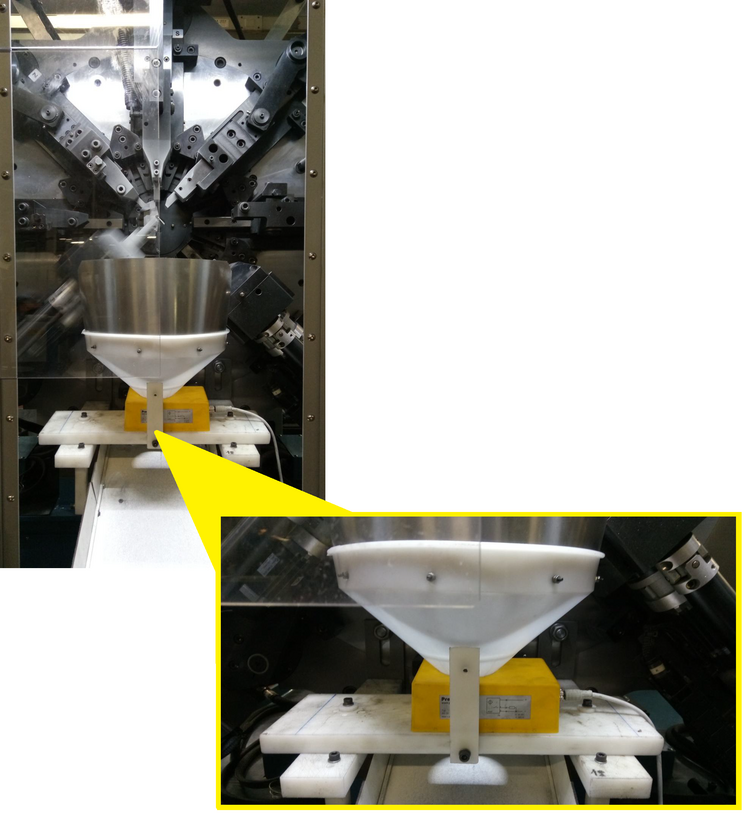 Do you have a similar application and would like to be advised?
Please fill out our application questionnaire and send it to sales(at)proxitron.de. Our experts will answer you as soon as possible.