Slab detection on roll line during transportation to the open
Customer / Field / Equipment manufacturer
Steel production
Application description
After being cut, hot slabs with temperature up to 800 °C are transported from the slab caster to a storage area in the open.
Customer problem
Position of the slabs on the roll line must be monitored. Sensors must work properly no matter which the slab temperature is, as slabs being transported can be hot as well as cold. Moreover, sensors must not react to weather conditions such as rain, snow or steam formation.
Previous solution / Competitor product
Customer used previously PAULY barriers. They were not reliable under unfavorable weather conditions or pollution, and showed short lifetime due to radiant heat coming from the slabs. Additionally, Pauly barriers are difficult to adjust and prone t to misalignment.
Proxitron solution
Light barrier composed by transmitter LAA and receiver LSA. A protection against radiant heat was provided by means of tube OL 19. Easy installation and alignment through the swivel stand HM2 and the laser light unit DAK 308 with adapter OL26.
Advantages compared to previous solution or competition
Thanks to its high functional reserve, the light barrier made of transmitter LAA and receiver LSA can work reliably also under very adverse weather conditions or heavy pollution; its proper functioning is not impaired by severe misalignment either.
A dedicated output signal for pollution provides an early warning of possible malfunctioning.
The tube OL 19 protects the barrier against radiant heat, which makes additional water cooling for the barrier in the open area unnecessary. A metal frame provides protection against heat also from the side.
By using the laser light unit, adjustment of the barrier is very simple and quick.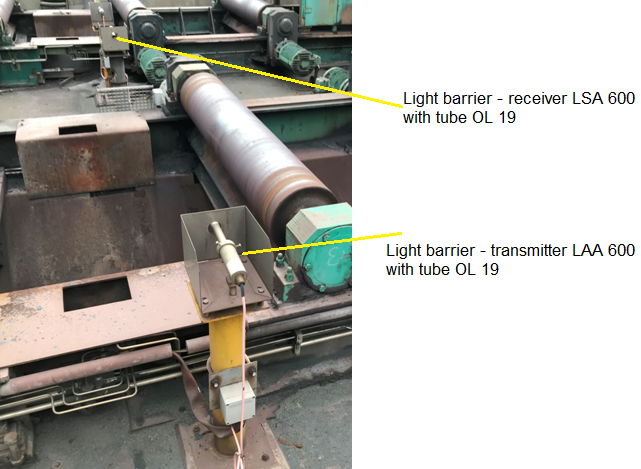 Accessories used
Do you have a similar application and would like to be advised?
Please fill out our application questionnaire for light barriers and send it to sales(at)proxitron.de. Our experts will answer you as soon as possible.