Ship maintenance is a demanding and costly issue. On average every five years ships must be delivered to the shipyard. Among the expensive maintenance costs, you have the repair of the steel body. Rusty parts on the shell must be treated with sandblasting and subsequent coating. Furthermore, the whole underwater part must be painted to prevent the growth of vegetation. Most of these operations are still performed manually. Wharf workers rope down outboard to work on the damaged parts or platforms need to be built to work on the 15 m high freeboard.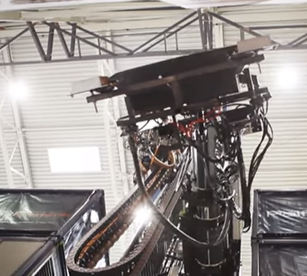 Palfinger Systems company developed a computer-controlled robot with a camera which can detect rusty parts and treat them with sandblast and coating. The High-Tech-Carrier-System works optimally only if a defined distance to the ship's side is guaranteed. Proxitron analogue sensors measure continuously the distance of the inspection, cleaning and painting units and deliver a signal to the system also at critical parts, for example at curves or concavities.

A compact analogue sensor MKU 215.194 S4 with waterproof RS-485 connector is in use. It measures in a range of 0-120 mm; the distance to the object is available as analogue output and at the serial interface. Measuring range and linearization can be adjusted to the specific needs by means of two buttons or via serial interface.