Pyrometer with high accuracy on metals with object temperatures from 75 °C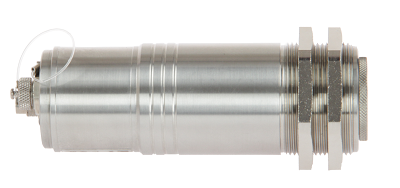 Proxitron has extended his existing product range by Pyrometers of the OKS GE series and can now offer a solution to measure the temperature of metal objects with low temperatures an under rough conditions. The new GE series in a robust stainless steel housing measures temperatures of 75 °C up to 1200 °C and is therefore suitable for the most different metal surfaces.
Due to the very short response time (from 5ms) the Pyrometers are suitable for quick measurements particularly. The response time as well as the temperature measuring area and other parameters are setted via a RS 485-interface with the aid of an optional software. The software runs under Windows and is largely selfexplanatory. Beside parameterization, the software also offers the opportunity to evaluate and keep records of the measurement data.
The spectral range of 2.0 - 2.6 μm permits a high accuracy of 0.5% even at lower material temperatures. Various optics enable adaptation of the measuring spot to the object size and distance. All devices are equipped with a plug connection. Separate connection cables are available in different lengths.
A wide range of accessories like cooling jackets, protective hoses and protective tubes, rounds off the product range and permits the adaptation to different applications. The sensors have been designed for control and supervision duties of different industries. They find their application in steel works and rolling mills, forging works, presses, soldering, sintering and hardening works.