Metal plate detection before cold press
Customer / Field / Equipment manufacturer
Metall processing – sub-supplier to the automotive industry
Application description
Before feeding into the cold press, metal plates (sheets) are spayed with oil, to prevent damages to the die. Oil spraying must be active only when material is in front of the spraying heads.
Customer problem
Spraying causes the formation of thick mist in the sensor area. Any optical sensor which was used previously for material detection was affected by dirt. Sensor can be installed only at the bottom, as material is laid down from the top onto the roller conveyor for feeding.
Previous solution / Competitor product
Photoelectric sensors from SICK.
Proxitron solution
An inductive proximity switch of IKU 011 design was integrated into the conveyor.
Advantages compared to previous solution or competition
An inductive proximity switch works properly regardless of the oil presence. Although intended for non-flush mounting, the proximity switch can be integrated into the roller conveyor and adjusted by means of its Proxi-Teach function, which ensures reliable detection also at changing ambient temperatures.
IKU 011T.28 G S4 in front of the spraying device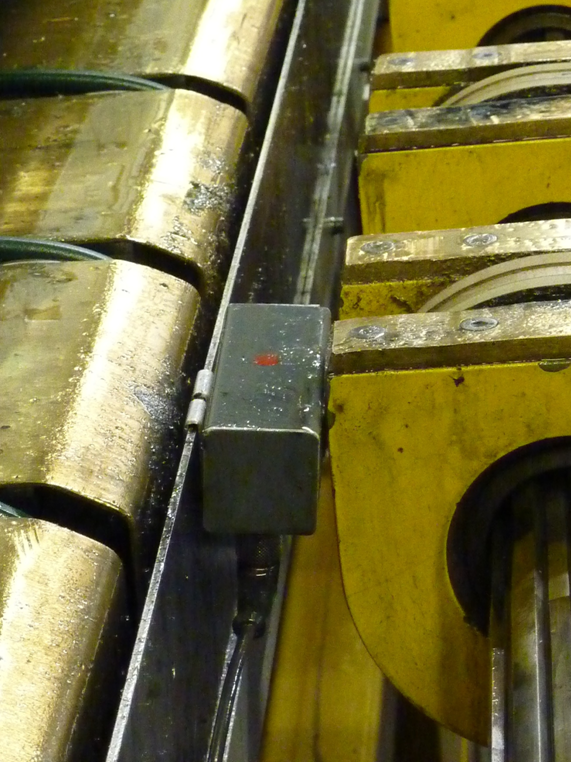 Do you have a similar application and would like to be advised?
Please fill out our application questionnaire for distance measurement and send it to sales(at)proxitron.de. Our experts will answer you as soon as possible.